Friendship Oceanfront Suites
Our History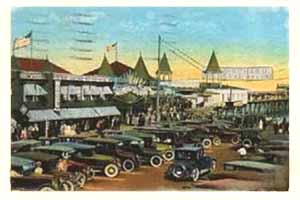 The Friendship Oceanfront Suites is located on a seven mile stretch of white, sandy beach in Old Orchard Beach Maine, in the bay of Saco. Old Orchard Beach was named for the old apple orchards that once existed at the now populated hilltop. Legend has it that the sailors would look for the orchards and know they had finally arrived home.
The land on which the Friendship was built was once the site of the Hazard Flying Corporation Hangar. Pioneer flyers of the late 1920's planned their flights and serviced their planes here before taking off from the hard-packed sands of the beach to perform history making Trans-Atlantic journeys. Charles Lindbergh landed his famous "Spirit of St. Louis" on this very spot on July 25th, 1927, due to Portland jetport being fogged in.
Old Orchard Beach has changed its look several times due to devastating fires which burned down many of the old grand hotels and once mile long pier. In it's day the area attracted many people from Boston who would ride the train to see such big names as Benny Goodman perform on the pier. ( or maybe get lucky gambling! ) The wooden roller coaster and Ferris wheel are long gone but the appeal of a beach front park is still strong.
The Friendship Oceanfront Suites was built in 1970 – the vision of the Melanson brothers from Nova Scotia. The Melanson's, and their wives, ran the motel for ten years before selling in 1980 to the Donovan family who still run the business.